News January 12, 2019 Welcome, Scott!
You might notice another shift in our line-up. Scott Stetson has joined us, playing guitar. You might recognize him from Magma Carta and other things around town.
We wish Cal Lamore best of luck with his other current and future projects.
May 12, 2018
Bees of the Invisible out now
Stream it on all major streaming sites. Listen or buy a copy from Bandcamp or CDBaby.
You can find it on CD at these local retailers:
Strictly Discs
B-side Records
Mad City Music
Sugar Shack Records
We will also be selling it at our shows, on CD, cassette, or a download card with enamel pin!
June 17, 2018
Chucke wins Best Childrens' Song!
Thanks to everyone who voted for our charity single in the MAMAs.
---
Shows
Upcoming
Dec 21, 2019, 9:00 PM
Crystal Corner Bar
With Ladyscissors, Able Baker
Details
Jan 17, 2020, 6:00 PM
Bos Meadery
Madison FemFest 2020, with 4th Curtis, Gender Confetti, Heavy Looks and more
Details
---
Music
---
About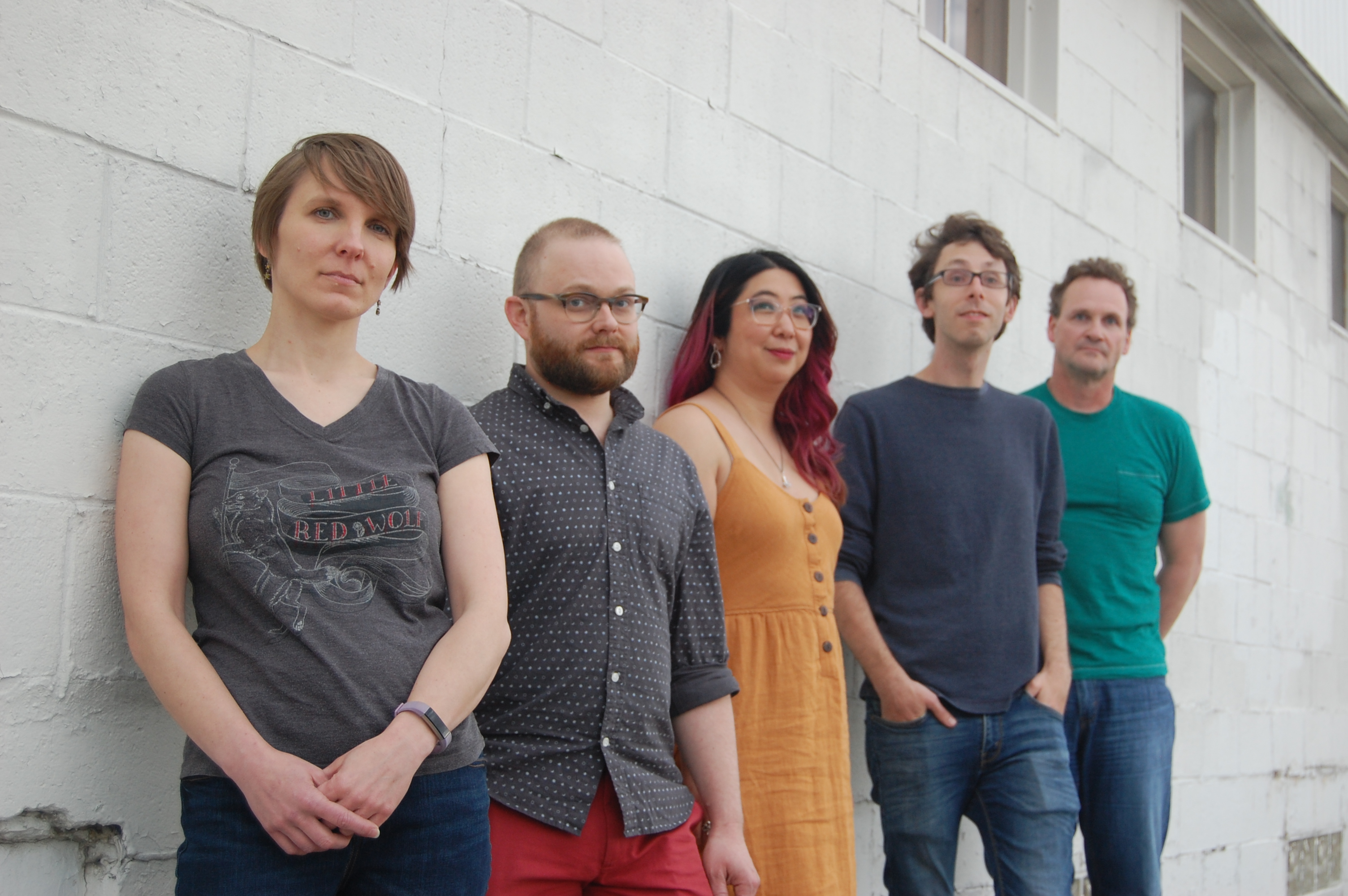 From left to right:
Anneliese Valdes

Bass and backing vocals

Scott Stetson

Guitar

Huan-Hua Chye

Lead vocals, guitar, and keyboards

Nick Davies

Lead vocals, keyboards, and trumpet

Paul Marcou

Drums and backing vocals
---
Bio
Coming from Madison, WI, Gentle Brontosaurus is a five-piece indie-pop band, combining rock instrumentation with ukulele and trumpet. We've been compared to Camera Obscura, Belle & Sebastian, and Velocity Girl.
---
History
Fall 2013

The band started to assemble.

February 1, 2014

Our first show, arranged on short notice, with a drum machine sitting in for Paul.

November 6, 2015

The release of our first album, "Names of Things and What They Do", with a party at the Sett.

January 2016

Cal takes over from Jon Wooten on guitar.

March 16-21, 2016

Our first tour, down to SXSW and back, with stops in Lawrence, Fort Worth, and Oklahoma City.

October 7-15, 2016

Our second tour, with stops in Milwaukee, Chicago, Louisville, Nashville, Columbus, Pittsburgh, Cleveland, Kalamazoo, and Ann Arbor.

January 2017

Anneliese takes over from Michael Sambar on bass.

April 1, 2017

Release of 'Chucke' for the Sing Me A Story Foundation.

May 12, 2018

Release of our second album, "Bees of the Invisible", with a party at the Chrystal Corner Bar.

December 2018

Scott takes over from Cal Lamore on guitar.
---
Press
It is difficult to highlight only some songs on this beautiful album because they all have something... In short, an excellent album, where indie pop asserts itself with beautiful melodies and a great repertoire of instruments that always enter at just the right moment. Great work by Gentle Brontosaurus.
The best album of the year has been replaced. Gentle Brontosaurus's second album
Sweet, sunny and just a little bit twee, this indie pop quintet will make you want to dance and hug your friends. Gentle Brontosaurus is celebrating the release of their second album, Bees of the Invisible. With folk and jangle-pop influences, this 12-track effort features smart lyrics, thoughtful instrumentation and enchanting songwriting.
What the world needs now: the happy, fun indie-pop of @GentleBronto. The new record is for fans of The Rentals who want to be in the know of the next underground #tweeglee dance party. Track1.mp3 is currently on repeat!
Madison band Gentle Brontosaurus are an indie-pop five-piece in the lineage of eccentric, soft-spoken acts from They Might be Giants to Camera Obscura. Their name suggests a kind of restraint, as the gentleness of the band coexists with the considerable musical talents that they put to careful use on their sweet, twee sound. GB's instrumentation is complete with a ukulele, the occasional horn arrangement, and a laid-back rhythm section, giving the bulk of the band's songs a chill, summery feel. Lead vocalist Huan-Hua Chye sings with the ringing tone reminiscent of Dolores O'Riordan, sometimes trading off vocal duties with Nick Davies, who very seriously sounds like Stuart Murdoch of Belle & Sebastian.
Seems like a band that'd be at home filling a big venue or playing your end-of-summer backyard BBQ party.
Really delicious twee pop, along the lines of Camera Obscura and Velocity Girl, with a nice interplay between male and female voices.
---
Friends
Heavy Looks
The Earthlings
Owls, Foxes, and Sebastian
Skyline Sounds
The Civil Engineers
The Square Bombs
TL;DR
Red Tape Diaries
The Seeking Machines
The Werewolverine
---